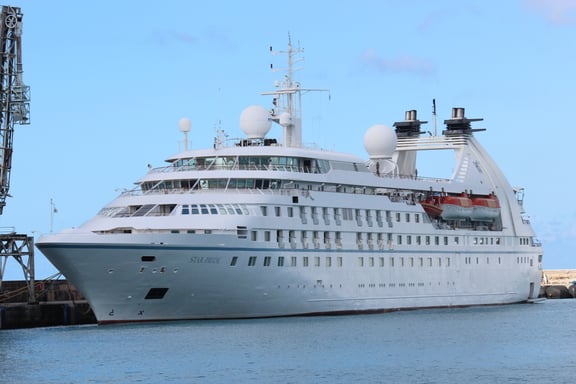 Luxury ship Star Pride made its maiden voyage to Barbados
Bridgetown, Saturday Nov. 21-- Recently the buzz in the local cruise industry has been about the arrival of mega ships to the Bridgetown Port, however,
on Saturday
the Windstar ship Star Pride, a smaller boutique brand, made its maiden voyage to Barbados, trumpeting all the virtues of small, quaint and intimate cruising.
The 212-passenger Star Pride is the first of three small luxury all-suite sister ships that Windstar, now initiating a fleet expansion and worldwide product development, has purchased from Seabourn.
Its British captain, Alan MacAry said that it is the first Windstar ship without sails, and he was pleased to be the one to bring it to Barbados. "Windstar is embarking on a major expansion under new ownership, and we are part of the hospitality arm of this company. Guests who come on our ships after going on those," he said motioning to the mega ships in port, "never go back because they say that being on our ships is how sailing should be. We know our guests personally and offer a luxury experience to beautiful ports that larger ships cannot access, and our guests love that," said Captain MacAry.
Star Pride made its way to Barbados from Tel Aviv with just its crew of 146 onboard. All its passengers boarded in Barbados before going on a two-week Caribbean cruise that takes in Trinidad and Tobago, Grenada, Aruba, Bonaire and Curacao before travelling to its homeport in Panama. Although we will not see Star Pride again until the end of the season, its sister ship Wind Star will be making regular stops to the island this season.
Harbour Master, Richard Alleyne of Barbados Port Inc. welcomed the Captain to the Bridgetown Port and exchanged the traditional plaques on behalf of the island.