With just a week to go in the ESSO #8216Help Us Help#8217 Promotion, ESSO and the Barbados Diabetes Foundation are close to their $100,000 target for the Diabetes Limb Salvage Fund.
#160
Started on World Diabetes Day, November 14, the two-month promotional campaign donated to the Fund six cents for every gallon of diesel and gasoline sold at all the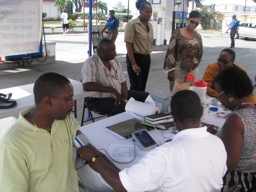 ESSO stations across the island. As part of the campaign, ESSO patrons were also treated to free blood sugar and pressure tests at the stations on various days during the holiday season compliments the Diabetes Association of Barbados.
Chief Operating Officer of the Barbados Diabetes Foundation, podiatrist Simone McConnie, said she is particularly pleased that ESSO has adopted the Foundation as its charity and more specifically the Limb Salvage Fund, which is managed by the Foundation.#160#160 #8220Working closely with the diabetic foot, I am very passionate about the fact that our high amputee rate could be avoided.#160 With the proper care, diabetics do not have to lose any limbs and it is very heart wrenching that nearly everyday in Barbados someone loses a limb to diabetes.#160 The funds raise will go toward providing the correct shoes and foot care for persons who cannot afford it."
Country Manager of ESSO, Cally Boyea, said his company was pleased to be associated with the Foundation and to help so many persons.#160 #8220 We are happy to have found a promotion that touches the lives of many persons in a significant way.#160 ESSO is about people and family, and this promotion has turned out to be very dear to our staff and customers.#160 We applaud the work of the Foundation and thank Barbadians for responding positively to the promotion.
#160The ESSO #8216Help-Us-Help#8217 promotion continues this Saturday January 9, with a walk beginning at 6 a.m. from ESSO Hastings to ESSO Oistins. Blood sugar and blood pressure testing also continues at ESSO Barbarees Hill on Friday, January 8 and ESSO Culloden Road next Thursday, January 14.