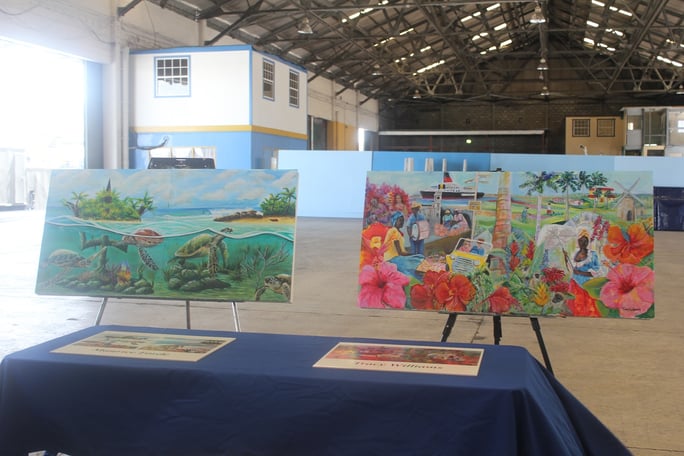 Bridgetown – The Barbados Port Inc. (BPI) today hosted a Commissioning Ceremony for eight specially selected murals by Barbadian artists to be painted on the doors of
the homeport terminal at
Shed 3. The project coincides with this year's 50
th
Anniversary of Independence and is designed to enhance the overall experience of cruise ship passengers as they officially enter and exit the island.
In his opening remarks, BPI CEO David Jean-Marie said he was delighted to be part of such a special project to celebrate the island's 50th year of Independence, and as part of the Port's continued plan to improve the 'visitor experience' to Barbados. "This project has been 10 years in the making and we are excited to be able to give eight of our talented local artists the opportunity to tell the story of the social, economic, and physical development of Barbados to our visitors. This project is aimed at improving the cruise passenger experience and to give them a lasting positive impression of the island as they move through the terminal," he said.
The Hon. Richard Sealy, Minister for Tourism and International Transport particularly applauded the initiative, saying it was a very important project to celebrate the culture of Barbados and to showcase some of the more traditional elements of Barbadian life to our ever-increasing number of cruise ship passengers. "I am thrilled by this project on so many levels. It is such a wonderful opportunity for our local artists to tell our story to visitors, as well as to promote the high quality of visual arts we have here in Barbados. A great cross-section of artists have been chosen and I believe this will be another stepping stone to showing our visitors the importance of arts in Barbadian society, as well as significantly improving the Port customer experience," he said.
Renowned local artist Fielding Babb, and one of the selected muralists, said he was very pleased for the opportunity to contribute to this project. "I feel good to know that at this age I can be one of the few who can leave a mark in the Harbour as it progresses into the future," he said.
Painter Tracey Williams echoed these sentiments. "I feel very privileged to be a part of something bigger than myself and to be selected amongst such a group of talented artists. It is also an honour to be involved with anything that is linked with the celebration of our 50th year of Independence in Barbados, and that promotes tourism to the island," she said.
The other six artists commissioned to paint murals at the Port include David Alleyne, Maurice Forde, Mark Maynard, Don Small, Omowale Stewart, and Petra Toyin. The murals will each cover a large door measuring 24 feet wide and 12 feet high, and are expected to be completed in February next year. The artwork will also be transportable to ensure they can be integrated into any new developments as the Port continues to grow and expand its infrastructure to offer the highest standard of homeporting services and passenger experience in the region.