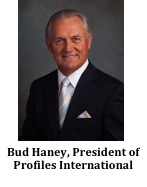 Barbadian entrepreneurs and business leaders need to be more charismatic if they are to be successful in this new work environment. This coming from Peter Downes, Chief Executive Officer of Profiles Caribbean Inc the leading company for human resource solutions in Barbados. Downes was speaking following the launch of the country's first workshop on Leadership Charisma at the Barbados Chamber of Commerce and Industry's monthly luncheon at the Hilton.
The Leadership Charisma workshop is a partnership between Profiles Caribbean Inc. and Barbados Chamber of Commerce and Industry. It will feature Co-founder and President of Profiles International, Bud Haney, a pioneer in the field of performance improvement and the author of the award winning book, Leadership Charisma.
Lisa Gale, Executive Director of the Chamber said that she was delighted to be associated with the seminar which would benefit her members significantly. "With the thrust towards entrepreneurship and self employment we have identified the lack of charisma as one of the key character flaws in many of our leaders. We need more persons who are skilled at inspiring individuals and motivating them to action. We therefore have some very high expectations from this seminar."
Downes said that the four steps toward becoming a charismatic leader are: the individual making the decision to be charismatic, building a foundation for your charisma, fine tuning your physical charisma and creating a charismatic leader's persona. These he said would be tackled by Bud Haney in the two seminars taking place on December 6, at the Barbados Hilton at 9:00am to 11:00am and then repeated from 1:30pm to 3:30pm on the same day. The workshop has proven to develop more dynamic and charismatic leaders as well as drastically improve one-on-one communications.
All managers and business owners are encouraged to attend the seminar.
Attendees will receive a free Leadership Charisma index report along with the book, Leadership Charisma by Bud Haney and Jim Sirbasku. The report is designed to score on individual levels of charismatc behaviour and compare these scores to other leaders across the globe.
For more information, interested persons should contact Profiles Caribbean Inc at (246) 431-0830 or the Barbados Chamber of Commerce and Industry at (246) 434-4750.
About Profiles Caribbean
Profiles Caribbean Inc. (PCI) is a regional company which was established in August 1994 to provide organizations with technologically advanced human resource tools and services to help them to hire, train, manage and develop people more effectively. PCI is the regional representative for the Texas-based Profiles International Inc., one of the leading providers and developers of occupational assessments in the world today. The company engages primarily in Psychometric Assessments, Search and Selection and Human Resource Consulting services.
About the BCCI
The Barbados Chamber of Commerce and Industry (founded 1825 - incorporated 1868) is a voluntary non-profit organisation for businesses established under an Act of Parliament (BCCI Act, 1983-10).
For More Information, please contact:
Pamala Proverbs
PR Consultant
(246) 4387592