The Barbados Port Inc Awards Staff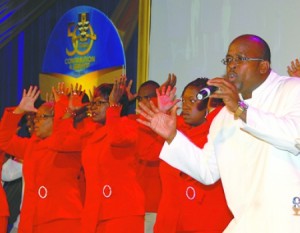 Even though the Barbados Port Inc. remains a highly rated shipping gateway, there are plans in place to make it even better.
The plans were highlighted by Minister of International Business and International Transport, George Hutson during the port's 50th anniversary award ceremony at Hilton Barbados Saturday night.
The minister said that currently it was the Best In Class, meaning it was the best among regional ports with similar land size and operations. It won the Port Of The Year Award six times between 1992 and 2003 and several awards as an outstanding cruise destination and multipurpose port, the minister reported.
It picked up the Novaport Cup from the Port Management Association of the Caribbean for Most Improved Port Performance for two consecutive years (2009 and 2010).
Hutson said that if Barbados was to remain relevant and to capitalize on the opportunities available from cruise tourism, "we must renew our plant, from the basic infrastructure as currently exists to one which will accommodate and service the increasingly large cruise ships".
He spoke of the need to address the aesthetic image of the facilities, create the shopping and entertainment infrastructure for cruise passengers and finding "new initiatives" for the space in the sugar bond.
"To complement the work in the cruise sector, the port will move to create additional facilities and services in the cargo sector," Hutson said.
"These will include extending Berth 5, installation of a Panamax size gantry crane, replacement of the equipment fleet, construction of a central container examination facility and the paving of an additional five acres for the container park."
Many of the port's staffers received awards for their role in its development. (AH)
Article adapted from www.nationnews.com