Atlantic Rowers Face Ultimate Challenge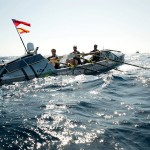 Intolerable weather, treacherous seas and dwindling water supplies are proving none too challenging for a group of disabled, British Servicemen making a 3 000-mile trek across the Atlantic to Barbados in a bid to raise £1 million for charitable causes.
The six-man team, made up of four former soldiers who suffered life-changing injuries in the line of duty and two able bodied colleagues, is determined to reach Barbados later this month. They are among the seventeen (17) teams, five (5) of which have already withdrawn, that set off from the Canary Islands on December 5, 2011, as part of the Talisker Whisky Atlantic Challenge, said to be the world's toughest rowing race.
On day 27 of the journey, 1000 miles away from Barbados, the team's onboard desalinator – which turns seawater into drinking water, broke, leaving them to rely solely on their emergency supply of bottled water. This setback coupled with the loss of their automatic navigation unit, only a few days into their journey present a major challenge for the team. It's the worst-case scenario for any team, apart from sinking. Still they push on, braving the blistering heat during the day, extremely cold conditions at night; torrential rains and huge sea swells which constantly threaten to capsize their small vessel.
Currently in fourth place, the crew of Row2Recovery, who row naked to avoid friction sores, have been hailed as champions by Damian McKinney, CEO of the Barbados Entrepreneurship Foundation and Founder and CEO of McKinney Rogers Int'l, the local sponsors of the team.
Alex McKenzie, co-founder of Row2Recovery and member of the crew says the team is determined to complete the race.
"I want to thank all of our supporters, who have contributed to our efforts and helped us to gain £625,000 so far for our charities. I would especially like to thank our Barbadian-based sponsor McKinney Rogers for providing their support for our efforts on their beautiful island; we look forward to seeing them there", he stated.
McKenzie expects to reach Barbados in mid-late January and will be docking at Port-St. Charles.
Rosanna Tudor, Operations Manager of the Barbados Council for the Disabled said she has been following the rowers from the beginning of the race and will be there along with other members of the Council, to welcome the Row2Recovery Team. "They are a shining example for persons with disabilities that anything can be accomplished," she noted.
The crew, who received a morale-boosting call from Prince Harry, is awaiting 350 liters of bottled water from the support vessel, Aurora. It will take four days to reach them, favourable weather conditions permitting.
The Row2Recovery team is aiming to raise £1 million to be divided among charities Help for Heroes, ABF - The Soldiers Charity and the Soldiers, Sailors, Airman and Families Association (SSAFA).
THE TEAM:
Lieutenant Will Dixon
Will, 27, stepped on an Improvised Explosive Device (IED) 10 days before Christmas 2009, in Sangin, Afghanistan. He was a platoon commander with 3rd Battalion The Rifles when surgeons at Camp Bastion performed a below knee amputation on his left leg. He phoned home and explained to his parents he had "picked up a bit of an injury".
Corporal Neil Heritage
Neil was a member of the Royal Signals bomb disposal team in Iraq when a suicide bomber detonated a device a few feet away. It was November 2004 and his wife was six weeks pregnant with the couple's second child. He required a double above-knee amputation and doctors initially predicted he would never walk again. Neil, 30, is now a school athletics coach and keen endurance athlete.
Corporal Rory Mackenzie
Rory was a company medic attached to the 1st Battalion Staffordshire Reg. While on a routine patrol in Basra City in Jan 2007 he was blown up by a Road Side Bomb. The blast traumatically amputated his right leg. After an extensive rehabilitation period he is now back at work as an instructor at Keogh Barracks, teaching fellow medics.
Lance Corporal Carl Anstey
Carl was hit by the blast from a rocket-propelled grenade in Musa Qala, Afghanistan, in January 2009 the after his 24th birthday. Carl, now 26, was a member of 1st Battalion The Rifles. The damage from shrapnel shattered his femur and severed his sciatic nerve. Surgery left him with a right leg almost two inches shorter than the left and he needs a leg brace to walk.
Ed Janvrin - Co-Founder
Ed spent eight years in the Gurkhas, serving once in Iraq and twice in Afghanistan. He left the army in 2008 deeply impacted by his experiences and compelled to help the men and women who had served alongside him. Ed joined PricewaterhouseCoopers as a business consultant in 2008.
Alex Mackenzie - Co-Founder
Alex served in the Parachute Regiment for six years, completing tours in Iraq and Afghanistan, where he was Mentioned in Despatches for leadership. He left the army in 2008 but never forgot the inspirational lessons he learnt from the troops he fought alongside. He now works for the Barbadian-based global business performance consultancy firm McKinney Rogers.