French Red Cross to host a regional cooperation event on disaster management in the Caribbean from May 17 to 19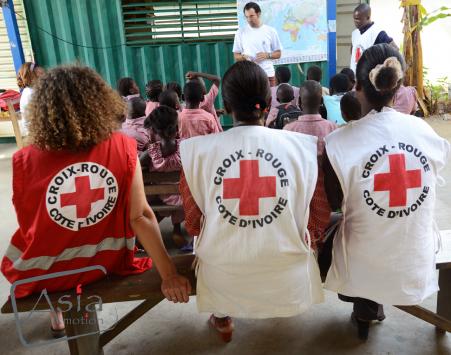 More than 40 participants from 12 Red Cross Societies and regional partners, including the Caribbean Disaster Emergency Management Agency (CDMEA), will participate in a regional workshop on cooperation and disaster risk management from May 17-19, 2022, in Sint Maarten. The Caribbean is exposed to major challenges in terms of natural hazards, epidemics, and climate change. In this context, strengthening cooperation and emergency response capacities is a major strategic goal to increase the resilience of populations significantly. As such, the event will be marked by the presence of the Director General of the French Red Cross, Jean-Christophe Combe.
The workshop is organized by the PIRAC (Regional Intervention Platform for the Americas and the Caribbean) of the French Red Cross. It aims to strengthen the sharing of experience and expertise of the various actors within the Red Cross movement and to strengthen the effectiveness of emergency coordination. The event will address several themes, including:
The international and national management of emergency interventions

The management and coordination of emergency stocks at the regional level

Strengthening the participation of volunteers

Lessons learned on the implementation of disaster risk management projects

Integration of protection, gender, and inclusion in operations

Reducing the environmental impact of humanitarian operations
Several technical advisors from the International Federation of Red Cross and Red Crescent Societies, CDEMA, Directorate-General for European Civil Protection and Humanitarian Aid Operations (ECHO), and private sector partners will participate.
The French Red Cross and representatives of 11 Caribbean Red Cross Societies will be present. These national societies hail from Antigua and Barbuda, Belize, Dominica, Dominican Republic, Grenada, Haiti, St. Kitts, and Nevis, St. Lucia, Sint Maarten, St. Vincent and the Grenadines, and Trinidad and Tobago.
Sendy Veerabadren, head of the PIRAC delegation said, "With early hurricane forecasts predicting an above average 2022 season, and after two years marked by the COVID-19 pandemic that heavily impacted disaster preparedness and management activities, this face-to-face event in Sint Maarten marks the resumption of a new dynamic of cooperation essential for effective emergency response."
The workshop is part of the ECHO-funded "Caribbean Prepared" project and the "READY Together" program funded by the Interreg Caribbean Program, the French Development Agency and the Guadeloupe Region.