CSA challenged to boost intra-regional transport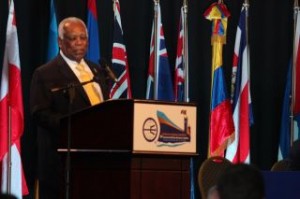 The Caribbean Shipping Association (CSA) has been challenged to boost intra-regional transport by Prime Minister of Barbados, Freundel Stuart.
He issued the call while giving remarks at the opening of the CSA AGM and Conference yesterday at Hilton Barbados. Making the point that the smooth running of the CARICOM Single Market and Economy (CSME) will depend largely on effective intra-regional transport, the Prime Minister reminded those gathered of the stance he took against obstacles to intra-regional transport earlier this year.
"It is patently obvious that intra-regional transport will be the life-blood of CSME. Just as the integration and development of the United States of America in the 1860's depended on the railway, so the development of CARICOM depends on maritime transport. It is for this reason that at the CARICOM Heads of Government Meeting in St. Kitts in early July this year, I made it clear that I will not tolerate any obstacles to the establishment of efficient transport facilities in the region," Stuart stated.
The Prime Minister went further, urging the Caribbean Shipping Association to take on the task of increasing intra-regional transport, along with maintaining the current international transport.
"I therefore want to challenge the Caribbean Shipping Association with adding intra-regional transport to the excellent provisions it now makes for international maritime transport. It is not a case of either international transport or intra-regional transport. We need them both if we are to grow and prosper," Stuart noted.
Taken from the Barbados Advocate, October 11, 2011.