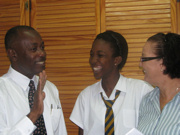 Principal of The Combermere School Vere Parris, recently announced that 17year old 5th former of the school, Je-Meila Maloney had been selected by the United Nations Children's Fund (UNICEF) to represent the entire Latin American and Caribbean region at the J8 Junior Summit in Chitose City, Japan at the end of the month.

At a recently held meeting at the school the principal said that he was proud and could not be happier if Je-Meila was his own offspring."This is a very important development for the school and the country. The J8 summit takes place at the same time as the G8 Summit and the children will have an occasion to speak to some of the world's most powerful leaders.It is not often that young people get to speak to any leaders and so this is a wonderful opportunity."

Marshall in speaking of Je-Meila, said that she was really proud of her accomplishment. She said that she selected Je-Meila because of her leadership role in coordinating a morning assembly. She said that Je-Meila spoke to an issue that was current at the school and then she did a spontaneous prayer that was spell binding, and her peers paid attention and were captivated by her delivery. "I made a mental note of Je-Meila's performance, she is an excellent communicator."The G8 countries include Canada, France, Germany, Italy, Japan, Russia, the United Kingdom and the United States.Je-meila's road to Japan started last year when she represented the island in Canada at the York University, in its Emerging Global Leaders Programme (EGLP). According to Parris, Je-Meila was selected then, along with Anand Lopez by Year Head, Sybil Marshall to represent the school at a forum from which the students were chosen to travel abroad to York.

Marshall said that since returning from York University Je-Meila's academic work has taken off. "I said, JeMeila, this is your opportunity, just go with it.The trip to York University was a family effort because it was short notice and I said to Je-meila's mom that we had to make it happen and she was very supportive from the start.Je-Meila has taken this opportunity and taken off with it all the way to Japan."

Mr. Parris explained that Je-Meila came back all fired up from the York University experience and went about, with the help of Mr. Jeff Broomes who chaperoned the group to York University and some other students, setting up an Emerging Global Leaders of Barbados (EGLB) of which she became its inaugural President. This organisation was a catalyst for her now being selected for the J8 Summit, since Mr. Hamilton Lashley, because of EGLB's participation in the Poverty Alleviation Programme, introduced the organisation to UNICEF.EGLB was then invited by this organisation to take part in its programmes.Je-Meila also became a regular youth spokesperson on the Morning Barbados show.

Je-Meila's selection to the J8 Summit started with UNICEF's Encyle conference which was held earlier this year at the Sherbourne Conference Centre.There was a panel discussion involving students from Barbados, Guyana and Grenada and Je-Meila emerged as the most dynamic, and was proposed by the local office as the region's representative.

Of her selection, Je-Meila said that she feels excited by being chosen, but knows that it is a serious responsibility.She said that attending the conference will be great but that the real work will begin when she comes back home and implements some of what she had learnt. "The experience is great. I am very grateful to the UNICEF office for seeing my potential and giving me this opportunity. I am also grateful to the school because this is my second trip abroad and the school, especially my principal and Mrs. Marshall made it all possible.We are very lucky at Combermere to have teachers who take an interest in our well being and who are passionate about their students' success."

Another Combermere student, Akila Holder has already been selected for York University's EGLP which is to be staged in Barbados later this year.