Colgate continues its contribution to the battle against diabetes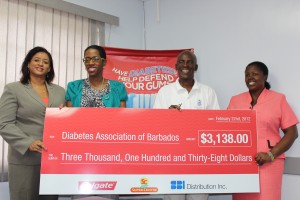 Colgate-Palmolive in partnership with Super Centre Ltd. and Knights Pharmacies, has for a second year made a significant contribution to diabetes awareness in Barbados, capping off the initiative with the recent presentation of over BDS $3,000 to the Barbados Diabetes Foundation and the Diabetes Association of Barbados.
Speaking during the recent official presentation at the offices of distributors for Colgate-Palmolive, SBI Distribution Inc., Brand Manager, Ms. Karen Williams-Thompson, said while the promotion held during Diabetes Awareness Month in November last year was not as rewarding in monetary terms as in the previous year, it was none-the-less just as successful in other aspects.
Williams-Thompson said the consumer promotion, which donates one Barbados dollar per product sold, shared equally by Colgate-Palmolive and Knights Pharmacy, had also been very beneficial through the free diabetes testing and consultations held in Super Centre locations at Big B, JB's, Warrens, Oistins, and Sunset Crest, as well as in the promotion of diabetes awareness and distribution of general information to the public.
"We enjoyed partnering for this promotion with both the Diabetes Association and the Diabetes Foundation of Barbados to reinforce the importance of good oral hygiene practices for persons living with diabetes. Through this programme, the general public has the opportunity to learn how effective oral care habits can be achieved, especially through the use of Colgate Total, which minimises the risk of complications from diabetes," Ms. Williams-Thompson stated.
Co-presenting with Ms. Williams-Thompson, Marketing Manager of Super Centre Ltd., Karen Alleyne, said the promotion was a good fit for Super Centre and Knights Pharmacies, and was also in keeping with the principles of the Knights Health Advantage Club. She said the focus for Super Centre was to assist customers by making them more active partners in the control of illnesses like diabetes.
Caption:
Participating in the cheque presentation from left were presenters, Colgate-Palmolive Brand Manager Ms. Karen Williams-Thompson and Marketing Manager of Super Centre Ltd., Ms. Karen Alleyne. Receiving on behalf of the two organisations were Mr. Nigel Arthur, treasurer of the Diabetes Association of Barbados, and Ms. Vicki Durant, Administrative Assistant with the Barbados Diabetes Foundation.