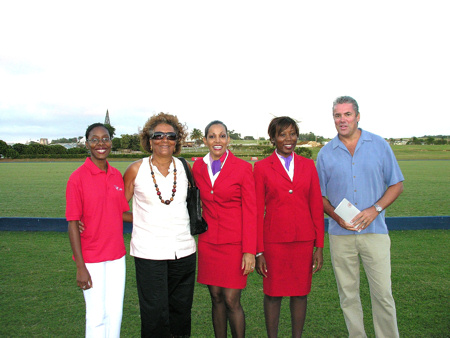 Waterhall Polo Club and sponsor Virgin Atlantic delivered all the excitement promised and more on Sunday at the Waterhall Estate. Pony rides, candy apples, scones and Pimms cocktails set the scene off the field for one of the more blistering match-up fans have seen for the season.
England's six goal professional Malcolm Borwick who led the visiting Chester side was blazing, living up to his reputation of being a skilful, exciting competitor. He opened up the scoring from the southern end much to the delight of the scores of English fans in attendance. His goal was however quickly answered by a sweet 20 yard shot by Danny Atwell who was in impressive form, top scoring in the match with 5 goals.
Borwick was not finish however, the top seed on the field out hustled a very competitive Waterhall side to finish with a total of four goals. This however was not good enough as his team succumbed by 1 goal 6-7 to Waterhall. The Chester team also had a set back when team mate Ivan Rubinich took a blow to the chin from the ball in the last chukka. The gutsy player opted to complete the game and reportedly took 9 stitches in chin after the match.
Other contributors to the score for Waterhall were Jamie Dickson who top scored last week, but just contributed 1 goal this time around and the indefatigable Sir Charles Williams, 1 goal. For the visitors Jeff Evelyn and Neil Dickson scored a goal each.
Borwick said that the game was great fun and the teams were evenly matched when it came to the quality of horses. "It is not often that visiting teams are given the same quality horses as the host but Waterhall is fantastic." He said that field at Waterhall was world class and he could not think of a more beautiful place in the entire world to play polo.
The big off the field winner was Joan Moseley who won the Virgin Atlantic prize of a trip for four to London with tickets to the Chessington World of Adventure.
Waterhall takes on Chester again on Thursday and Sunday.