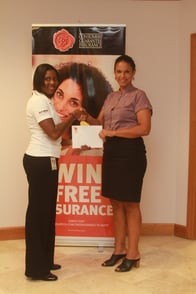 Consumers' Guarantee Insurance Co. Limited (CGI), 'Win Free Insurance Promotion' has its first lucky winner. Jina Scheper of Cottage, St George was all smiles as she received her prize of free car insurance for a year from Chrystal King, Assistant Underwriting Manager at CGI.
CGI's Marketing Manager, Ann Barrow, who is overseeing the promotion, said that the Win Free Insurance Promotion is CGI's way to incentivize potential and existing customers for their loyalty and patronage. "We recognize that everyone is going through financial adjustments and anyone can benefit from free insurance and even if you are not in a position to immediately redeem your prize, it is valid for 1 year. We started the novel concept of paying for your insurance monthly, to help ease the burden of an annual lump sum insurance payment and this promotion supports our philosophy to put the customer's needs first as well," Barrow said.

The competition started on May 4. Eligible customers should fill out the online form on the CGI website to enter. Anyone attending BMEX this weekend can also enter the competition in person by visiting the CGI Booth. Customers will be contacted to validate their entry.

The competition will be drawn fortnightly with winners receiving free home or car insurance.