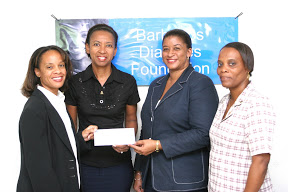 From Diabetes Global Village
New research has shown a growing prevalence of gum disease among persons with diabetes.
This adds to an already long list of serious complications like stroke, heart and kidney disease associated with the condition.
As a result of these findings, Colgate International has taken on a
lead role in joining the global fight against diabetes. Brand Manager,
Karen Williams -Thompson, said Colgate was happy for the opportunity to
be able to contribute to diabetes awareness and its link to gum disease
at the local level.
Speaking recently at the Barbados Diabetes Foundation where she made
a sponsorship contribution to the Diabetes Global Village event,
Thompson said, "We are very keen on the educational component of the
Global Village because we feel that this is where the public will
benefit most. We will be having a team of dental detailers to give
information, free sampling and of course we will have dentists along to
give free oral checks and consultations."
The Diabetes Global Village event is scheduled for November 13 and 14
at Sherbourne Conference Centre. With this year's theme focusing again
on children, Williams-Thompson said Colgate will have its full range of
Children's toothpaste & toothbrush products.
Speaking on behalf of the Diabetes Foundation, Chief Operating Officer
(COO) Simone McConnie, thanked Colgate for their contribution and
encouraged them to make it an annual partnership. She said that there
was a dire need for diabetes promotion both at the professional and the
community level.
"The awareness of diabetes and its complications need to be
highlighted. Diabetes usually is in the shadow of other diseases and we
want to change this. There are many research and training projects in
which we at the Barbados Diabetes Foundation are involved and we hope
to attract more interest and support from the team players (health care
team, corporate Barbados, clubs and church groups) to further our
managed approach of education and management of the disease.
This year with the worldwide focus again being on children the Global
Village will have a number of features targeted to this age group. The
Barbados Library Service is on board, and we have a special cooking
area that will be looking in particular at healthy lunch boxes."
The Global Village is one of the activities that will be held in
November for Diabetes Awareness Month. Other events include a sponsored
walk around the Garrison on November 15th at 6am; and the Foundation
and the Diabetes Association of Barbados will team up with Colgate on
November 20th for a Diabetes lecture where oral care will be the focus.