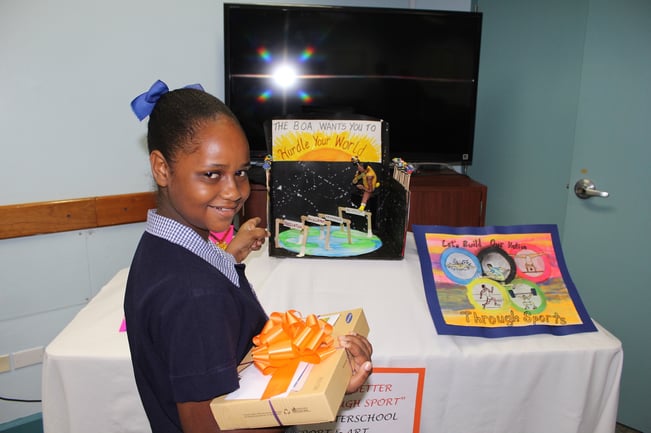 It was smiles all around today as the National Olympic Academy of Barbados, in association with the Ministry of Education,
unveiled the winners of its Primary Inter-School Sport and Art Competition at an Awards Ceremony at the Barbados Olympic Academy's (

BOA

) Wildey Headquarters.
Local primary schools and students were asked to use their creative talents to portray Olympic values in an artwork of their choice. The purpose was to strengthen the link between sport and art, as well as to promote the values of Olympism (Excellence, Friendship and Respect). 18 schools took part in the competition, with over 700 individual entries from students.
About the entries that were submitted, President of the Barbados Olympic Association, Mr. Steve Stoute, commented, "I was extremely impressed with the standard, the efforts and insights of the participants".
The competition, themed Building a Better World Through Sport, was divided into two phases; a schools competition and an individual students' competition.
The school winners were awarded up to $1000 in sports equipment. They were St. Lawrence Primary in first place, Hilaby Turner's Hall Primary (second) and Roland Edwards Primary (third). Schools were awarded prizes on the basis of the highest percentage of participation.
Each student winner received a tablet and cash prizes of up to $500, as well as art supplies for each of their respective schools. The winning student artwork was made by Sara Wiggins from Ellerton Primary School, who sculpted a piece entitled 'The BOA wants you to hurdle your world'.
Second place winner Saskia Ward from St. Paul's Primary, said that in thinking of the Olympic values, she incorporated all the sports she plays – gymnastics, swimming, and running, "so I put them all in my artwork", she said. When asked what is the first thing she'll do with her tablet prize, third place winner Lauryn Small from Sharon Primary School, said "I'm going to call my daddy!"'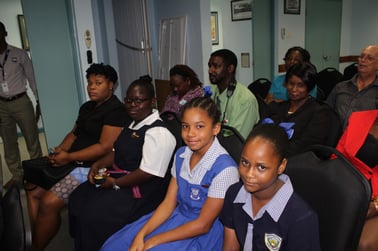 President of the Association of Public Primary School Principals, Ivan Clarke, thanked all for their participation and called for more events like this to blend sports, art, and academics for the youth of Barbados.
Director of the Olympic Academy, Dave Farmer has echoed these sentiments "sport is a powerful tool for both social change and social development, and it is through sport that we learn some of the most valuable and important lessons in life", he said.
Because there were so many creative entries, he sent a call out to everyone to visit the

BOA

Museum and to view some of the other artworks which were submitted and are now on display in a special exhibit.
The entries were judged by a mixture of local sports and art experts – Tanya Oxley (former Barbados track and field Olympian), Neville Legall (local artist), Gavin Cumberbatch (Central American and Caribbean Games squash medal winner), an Anicia Wood (national volleyballer).
The National Olympic Academy is the educational
arm of the Barbados Olympic Association Inc. (

BOA

). It has been acclaimed as one of the more active Olympic Academies in the Americas in promoting Olympism and Olympic education.