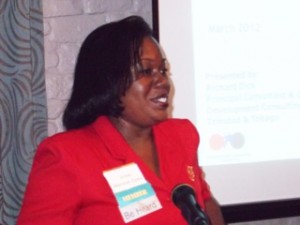 An inside joke of the IABC Barbados board is that our Co-VP Professional Development, Jackie Marshall-Clarke is good at finding "good" men. And last night's presenter at our professional development event "Communicating Change - When Things Fall Apart and Communications Is the Glue That Keeps It Together," lived up to the billing.
Richard Dick, Principal Consultant and CEO of the Trinidad and Tobago based firm Development Consulting Center was indeed good. The Who Moved My Cheese, licensed trainer moved the audience of about fifty through an electrifying presentation on the strategies practitioners in Communications and Human Resources need to adopt to successfully negotiate change.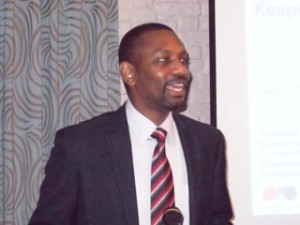 Starting with quotes from the famous text by Chinua Achebe, Things Fall Apart, and from the Charles Dickens classic, A Tale of Two Cities "It was the best of times, it was the worst of times, it was the age of wisdom, it was the age of foolishness" to the delight of the audience which was punctuated with literary people, Dick showed how the emotional response of individuals contributed to the uncertainty and madness that accompanied change.
He emphasized that what was necessary was continuous engagement and communication. He said that it was better that you over communicate and let your stakeholders say "all right, we get it", than persons say, "no one tells us anything", allowing the communications void to be filled with 'cooked' up stories.
All in all, his presentation, which will be made available to members, was informative, educational and entertaining.
If you missed this event, here is the latest news from the Chapter:
We have had seven new members registered in this our Members' Month and this is your last opportunity to register at a discounted rate as the special ends on March 31. To register visit www.iabc.com.
Barbados will be doing the Accreditation Completion Program, so if you are interested in being part of the group you need to contact us and pay your registration free to the VP Finance, Lynda Holder, no later than March 31.
We are hoping to take a large contingent of members to the International World Conference in Chicago June 24-27 this year, so please go online and register for the event.