---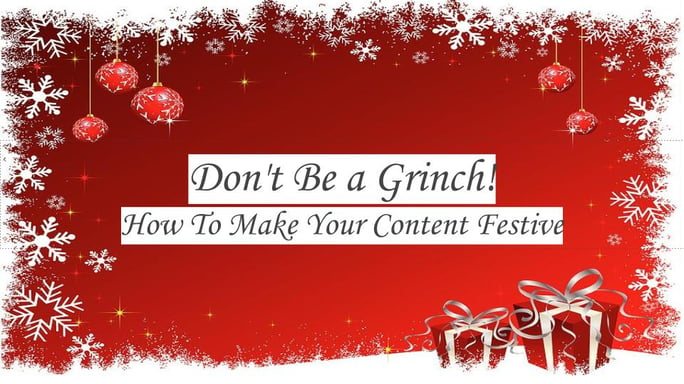 With Independence just around the corner and the 'silly season' fast approaching, it's time to start thinking about festive content. Although there are still a few weeks until the season gets into full swing, now is the time to be strategising just how your business plans to get festive this year.
Your corporate content speaks volumes about your business, and being festive is a great way to show that you're not just about number crunching and meeting the bottom line. It's an opportunity to connect with your clients, as well as increase your website traffic and sales. Reputation is built on relationships and rapport, so showing a little 'festive cheer' and holiday spirit can only be a win-win.

Don't be a Grinch this festive season, use some of our content tips to help your business show that it is festive-friendly:
Theme Your Content

Being 'festive' doesn't just mean pushing out a cheesy Christmas blog or a token egg nog recipe in December. In Barbados, it also means Independence and a variety of other parties, concerts and cultural events. Wherever you are in the world, there are many different activities around this time of year that you can base your content on. Just choose something, and run with it – simple as that.

If Christmas is your thing, talk about the events you're hosting or planning to attend, make lists like 'Top 10 Christmas faux pas', create your very own 'Guide to the office Christmas party', and so on. Write engaging fun facts and 'did you know?' questions to generate interest and discussion. Just make sure you time your content in accordance with your festivity of choice, and you're good to go!

Design To Suit

One of the best ways for a business to share festive love is through design. Start off by incorporating some Independence colours into your website, include a small Christmas tree in your corporate logo, even a festive 'behind the scenes' staff photo shoot; all these things connect with your readers and show them the more 'human' side of your business.

Note: we don't normally recommend messing with your branding so flippantly, but when it comes to the festive season, doing so helps complement your message – just be sure to change it back as soon as the festivities finish or you run the risk of looking out-dated.

Fundraise And Offer Giveaways

Another way to get festive is to set up a fundraiser to help those less fortunate, especially at Christmas time. Why not donate a gift, or host a special Christmas party for those in need? You could also set up themed giveaways and prizes like Independence T-shirts, or a free Christmas tree. This is the time of year to show that you're not just festive in content, but festive in your actions too.

Promote Your Festive Spirit

The last arrow in your festive content bow is promotion. And, our only advice to you is to be creative and spread it wide. Use your website and social media channels, create an 'Independence month' newsletter for stakeholders, send out a festive email blast, give Christmas cards to current and potential clients, and so forth. A small Christmas gift, even better if it includes your own branded merchandise, can go a long way – sometimes even further than a festive blog article or Tweet.
So, think carefully about what avenues you will use to share your festive content to ramp up your public presence and build relationships with your key stakeholders during these holidays, and get festive today!
As we have said, themed e-cards are a great way to connect with your clients and show your festive spirit. To customise your own e-card, download our customisable holiday cards PowerPoint below, courtesy of HubSpot!
---