PRMR
Inc./Clifton Henry
Waterhall Polo Club defeated Tortugas 8 ½ goals to 5 in
their first match of the Terra Caribbean three match series before a large and
appreciative audience on Sunday.
The Buenos Aires
team playing off a thirteen goal handicap showed wonderful glimpses of the
quality polo they are famous for, but were unable to maintain their form
against a more youthful Waterhall side.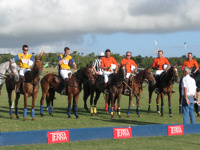 The Dickson brothers (Neil and Jamie) scored three goals
each for Waterhall while the athletic Teddy Williams chipped in with two
goals. The other player for Waterhall
was Richard Gooding who played solid defense.
Tomas Cavanaugh was the leading scorer for Tortugas
converting three 60 yd penalties and chipped in a beauty for his four goal
haul. Team mate Ricardo Strada
contributed a last minute goal in the final chukka. Andre Rossi and Juan Carlos Echeverz also had
a solid game.
The second game of the three - part series will be played
on Thursday, March 13 at the Waterhall grounds. The Tortugas team by then would
have shaken off their jet lag and should prove to be tougher opposition. Waterhall on the other hand would be looking
to continue their fine run of form this season and close out the series with
yet another comprehensive win.