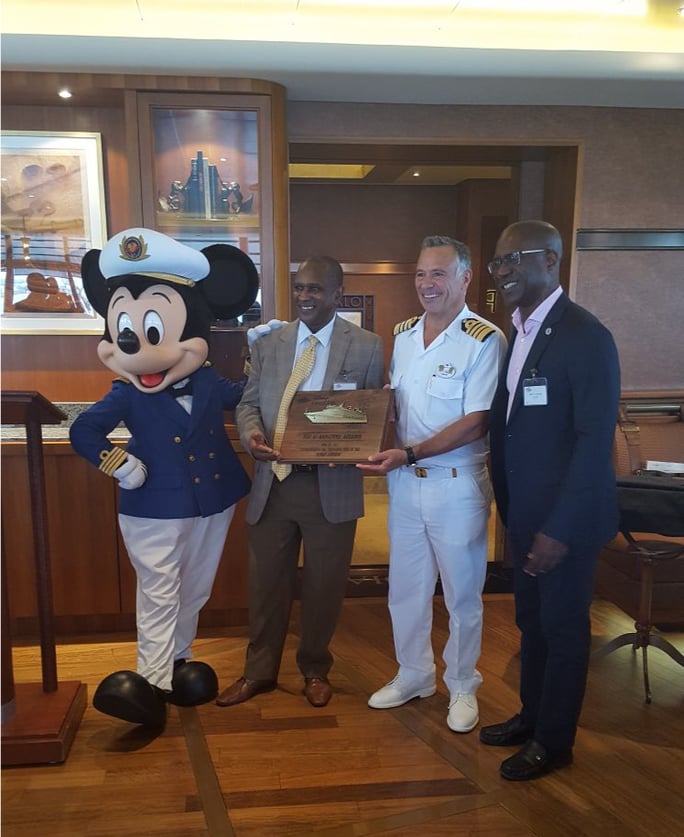 Barbados' thriving cruise industry received a further boost on Thursday when the Disney Cruise Line's mega cruise ship Disney Fantasy made its inaugural call on the Bridgetown Port carrying approximately 3500 passengers and 1500 crew.
Disney Fantasy is the sister ship to Disney Dream both of which were designed for guests of all ages with experiences such as exploring the universes of Star Wars and Marvel, to shopping at unique onboard venues, a virtual Disney World experience on the sea.
The dream ship was met by officials of Barbados Port Inc., Barbados Tourism and Marketing Inc. and Foster & Ince Group.
CEO of Barbados Port Inc. David Jean-Marie welcomed Captain Fabian Dib and his charge to the island. Jean-Marie expressed his delight that the investment that the Port had made over the last five years in extending its berth, acquiring new equipment, and training staff, were already reaping dividends for the country and its people.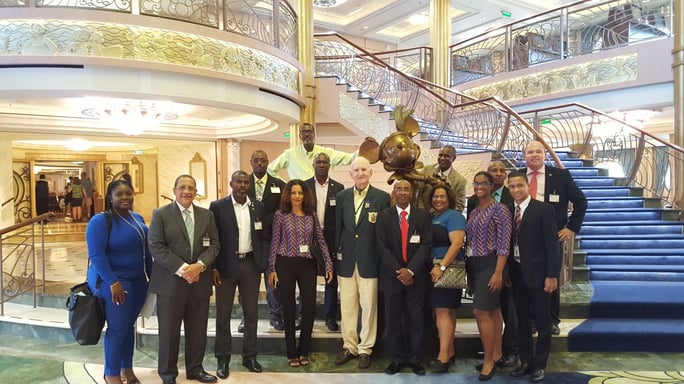 Representatives of Barbados Port Inc., officials from Platinum Port Agency, Barbados Tourism Marketing Inc and Bridgetown Cruise Terminals Inc.
"
The cruise season is now starting, but we already project that we will be seeing over 800,000 passengers passing through the Port. This is a significant accomplishment that is made possible by the investment that we have made in our facilities which has made Barbados an attractive hub for cruise ships to homeport. Currently, there are about 17 ships fully or partially homeporting, and this figure continues to rise. We also expect 11 new ship calls this season and we are in ongoing negotiations to bring more ships to the island," said Jean-Marie.
Disney Fantasy gives passengers an authentic Disney experience. The ship's exterior color scheme matches the iconic Mickey Mouse with a black hull, bold red funnels and vivid yellow striping and lifeboats. Small touches, such as silhouettes of Disney characters scrolled into the cruise line's signature yellow filigree ornamentation, stretches from bow to stern.
The ship is on an 11-Night Southern Caribbean Cruise from Port Canaveral. Its Ports-of-call include Canaveral, Florida; Oranjestad, Aruba; Bridgetown, Barbados; Fort-de-France, Martinique; Basseterre, St. Kitts; San Juan, Puerto Rico and Disney Castaway Cay. Disney Fantasy will return to Barbados July 5.