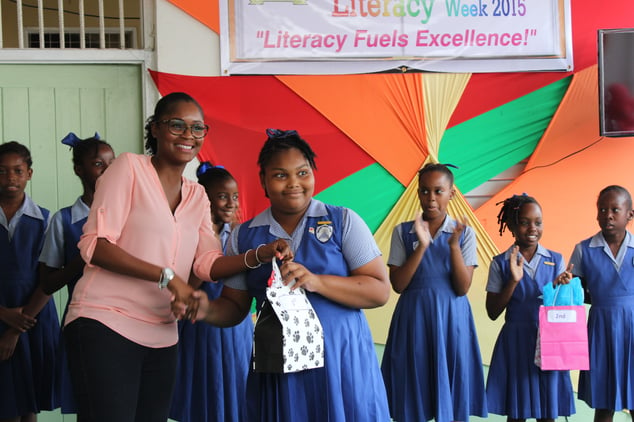 Bridgetown -- Consumers' Guarantee Insurance Co. Limited (CGI) showed its commitment to the development of the youth on Friday by donating the first prize of a tablet to the Hindsbury Primary School's 'Speak Off' competition.
As part of its annual 'Literacy Week', the students of Hindsbury were encouraged to develop and showcase their reading, writing and public speaking skills in a competition designed to highlight the importance of literacy in young children.
Rohnelle Primus, CGI's Account Executive – Commercial and Personal Lines, presented the first prize to an excited 11-year old Kelsei Crichlow. When asked what would be the first thing she will do with her tablet, Crichlow said she would "take a selfie and just have fun with it."
CGI's Marketing Manager, Ann Barrow said she was delighted CGI could contribute to the 'Speak Off' competition. "The youth of Barbados are our future, so it makes sense for us to support these kinds of initiatives and to encourage our younger generation to read and write", she said. "This is the second year that we are involved in Literacy Week at Hindsbury, and we look forward to continuing our support next year."
Hindsbury Primary School's Principal Mrs. Cummings-Lewis said the Literacy Week initiative came out of her belief that "we need to value literacy and reading. We wanted to make it fun, so our children make the choice to read", she said. "The aim of the 'Speak Off' competition is to help our students learn to communicate better, which is all part of being literate."
The 'Speak Off' competition was just one of the many activities designed to encourage the students at Hindsbury to enjoy reading and writing as part of Literacy Week. Other activities included poetry reading, singing jingles, a three-day book fair, and celebrity readers (including Shane Sealy from CBC).
Other prize winners in the 'Speak Off' competition included Zipporah Haynes (second place) and Kianna Mason (third place). However, all participating students were awarded prizes for their enthusiasm and contribution.
It is the fourth year that the school has held its Literacy Week activities, and students and teachers are eagerly awaiting what's in store for next year.