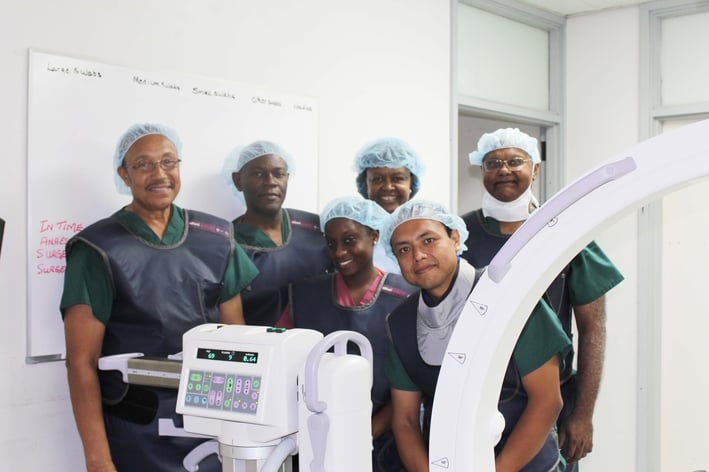 Bridgetown – Bayview Hospital has purchased its first GE Healthcare OEC 9900 Elite C-Arm surgical imaging machine. The portable machine, similar to an X-ray, is used to take magnified images of bone and tissue during surgical procedures, and will enable surgeons to operate on patients with more precision and accuracy.
Training sessions were held this week for

Bayview

Operating Theatre staff and surgeons, to ensure prospective C-Arm users at the Hospital are fully equipped to use the machine during live patient procedures. Led by international GE Specialist, Marco Antonio Gonzalez, from Mexico, the training sessions involved both theoretical and practical components for the clinical application of the C-Arm machine.
"This C-Arm machine is the best in the United States," says Gonzalez. "It produces the best quality images, with clearer and crisper visuals, and exposes patients to less radiation than other similar machines. It's also very easy to use, and has a wide variety of innovative settings that will assist

Bayview

staff to continue to lead the way in surgical procedures on the island."
Bayview

Operating Theatre Supervisor Jacqueline Brathwaite welcomed the new C-Arm machine to the Hospital. "Our new C-Arm machine will significantly improve the quality of the services we can provide to patients," she said.
The OEC 9900 Elite C-Arm features various contrast and brightness options, intense zooming capacity, image distortion control and rotation, and has the functionality to scan a wide spectrum of body parts, with settings that can be adjusted to suit specific surgical procedures. The C-Arm also minimises the dosage of radiation a patient is exposed to as there is less need for repeated scanning.
Bayview

is continuing to demonstrate its commitment to being at the forefront of surgery in Barbados. Only last month, the Hospital also announced it performed the first two cases of Arthroscopic Anatomic Anterior Cruciate Ligament Reconstruction (ACLR) Surgery knee reconstruction in Barbados.