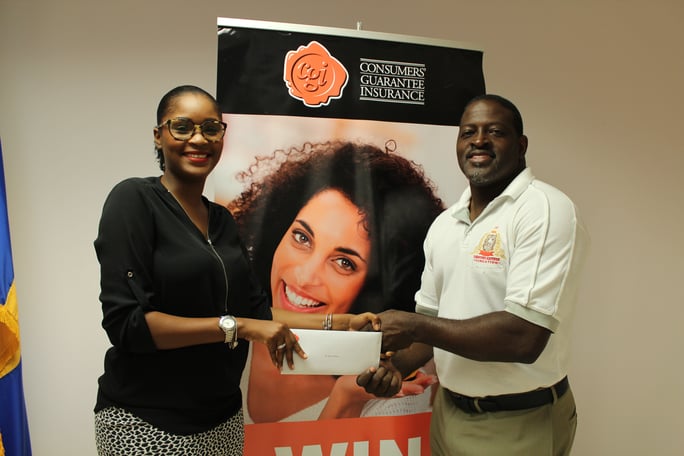 Consumers' Guarantee Insurance Co. Limited (CGI) this week announced another lucky winner in its 'Win Free Insurance Promotion'.
Kenneth Payne of Warrens, St Thomas was all smiles as he collected his prize at the Warrens Branch from Rohnelle Primus, CGI's Account Executive – Commercial and Personal Lines. Payne said that this was the first time he had won anything. The CGI customer said he received the invitation to enter the competition in an email, and he entered twice. "I guess you can say it was two times lucky because this is my second time entering the competition. My win came at the right time because I have just purchased a new Subaru Forester and was in the market for insurance. This is really awesome," he said.
Primus said that the promotion has received a great response from the general public. "We are happy with the response to the competition thus far, it shows customers another side of CGI and we get to interact with them outside the regular business atmosphere of policy negotiations. The Promotion has also been a great forum for us to inform the public about the value-added services we offer at CGI. It has also been a great complement to our other recent external promotions at events such as BMEX, Man-Up and Q in the Community," Primus said.
Competition winners are drawn fortnightly and receive their choice of one year's free CGI home or car insurance. A bonus to the competition is that the prize is valid for up to one year, if winners are not in a position to immediately redeem their prize.
To enter, eligible customers can go online and fill out the entry form on the CGI website at www.insurecgi.com.