The Williams Industries Waterhall Polo Club 16 goal match series climaxes on Sunday, March 30. Both of the Waterhall teams, Williams Industries and Apes Hill have been knocked out of the finals which will see the Australian team Custodian coming up against Ocho Rios of the UK.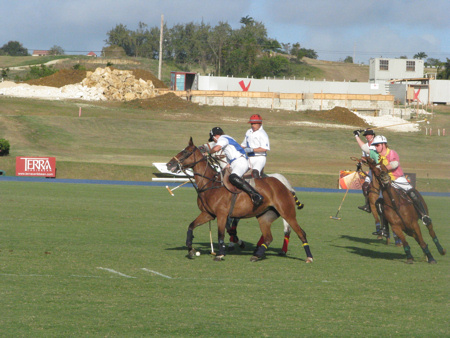 The Waterhall teams both lost their opening matches against Custodian and Ocho Rios and continued to flounder during the week. Apes Hill was the better of the two teams beating Custodian 7 goals to 4 on Tuesday, but on Thursday they stumbled against their fellow Waterhall side in a stunning 4-7 ½ defeat. This was Waterhall's first victory and it served to knock both, Patron Sir Charles Williams teams out of the finals since Custodian was able to secure a victory over Ocho Rios.
Luke Tomlinson, captain for England, and the Apes Hill Captain will be hoping to leave the field with some honour intact against Williams Industries Waterhall. Both teams will be featuring two professionals. Tomlinson will be joined by professional team mate Ed Hitchman and local players Neil and Jamie Dickson. Professionals Jack Kidd and Tom Morley are joined by Danny Atwell and Richard Gooding. They will be hoping to undo Apes Hill again.
In the featured game the Aussie will be hoping for a repeat of Thursday's performance. The Ocho Rios team however will not be a walk over. They have proven their staying power in their steady less than flamboyant play. Both teams have a go to guy. For Ocho Rios it has been the professional Chris Hyde who on Thursday scored 5 of his team's 6 goals. He will be joined by Simon Holley, Johnny Good and Sebastian Dawnay. Hyde will be going head to head against the exciting play of Mark Tomlinson the lead scorer for
Custodian, and team mates John Fitzgerald, Trent Walden, and Craig Wilson.
The stage is set for an explosive finish to both matches. Loaded with professionals on both teams, all four teams will be out to demonstrate their supremacy.
Spectators will also be treated to the 'Battle of the Brothers', man versus machine when Sir Charles on a horse takes on his brother and sponsor of the tournament, Ralph 'Bizzy' Williams in race car, for one lap of the field.